Improving Lives, Enriching Communities
WHAT WE DO
Capstone Mechanical is a professional engineering, contracting, and service company specializing in the fields of air conditioning, heating, ventilating, refrigeration, plumbing, and process heating and cooling. We strive to deliver legendary excellence with industry leading engineering, project management, trade skills, building information modeling (BIM), LEAN construction, and a safe working environment.
The team of men and women at Capstone Mechanical are dedicated to our Vision, Mission, and company Values. We know that if we want to have a positive impact on those around us, we first have to be excellent at what we do. We work diligently to make Capstone a place where people can engage in a career that makes a difference for themselves, their families, and their community.
HISTORY
Partners, Stefan LeRow, Rick Tullis, Brian Aynesworth, and Will Fair founded Capstone in 2005. They wanted to start a company that not only served the community with its talents but also was a company where talented, hardworking employees could flourish and succeed. They believed that a company built around a servant leadership culture would attract the best employee talent and deliver the best products and services to its customers. To that end, Capstone now has over 200 team members serving the community with each of their unique skills.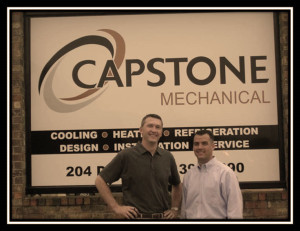 WHAT IS SERVANT LEADERSHIP?
Servant-Leadership is a practical philosophy that supports people who choose to serve first, and then lead as a way of expanding service to individuals and institutions. Servant-leaders may or may not hold formal leadership positions. Servant-leadership encourages collaboration, trust, foresight, listening, and the ethical use of power and empowerment. It is this leadership that creates a team environment at Capstone, and enables us to provide solutions at the lowest possible cost and within the highest possible quality for our customer.

Our parent company, PremiStar, operates a footprint of 41 commercial HVAC, building automation, and plumbing branch locations across 12 states. With over 2,000 employees, PremiStar helps critical facilities owners and managers in commercial, municipal, educational, and industrial market segments achieve more cost-effective, energy-efficient, and healthy environments.
To learn more about PremiStar, please visit www.PremiStar.com
To learn more about career opportunities, visit www.PremiStar.com/careers